Special Savings on Hybrid Water Heaters!
Save up to $890 now and reduce your electric bill every month.
Hybrid Water Heaters are more than 3 times as efficient as a standard water heater. Thanks to instant rebates from Energy Trust of Oregon, these premium water heaters are available for less than a standard water heater – plus delivery to your home is FREE! This is a limited time offer.
Click Image to Order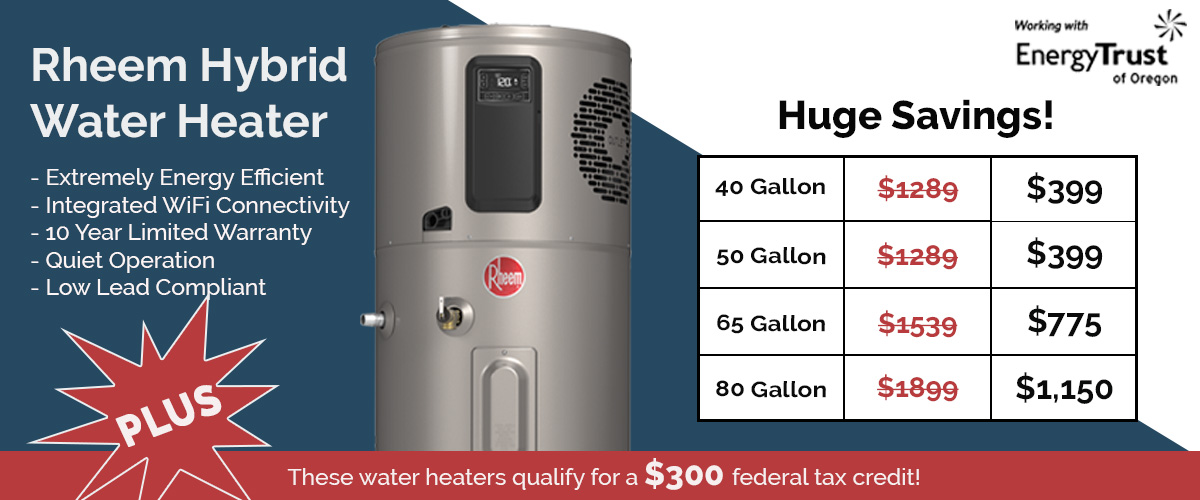 Offer Details
FREE delivery to your home.
Water heater must be delivered and installed in an Oregon home.
Available for customers of PGE and Pacific Power.
2 per customer per day.
After you place your order, we will contact you to arrange a curbside delivery appointment.
Receive a free showerhead (or two!) with your order – click the "Add to Cart" button at the top of the shopping cart or checkout screen!
Need installation services?
Special installation pricing starts at $400.
Call one of our partners below for an estimate. They will pass along this same pricing for the water heater, plus their low installation price. If you choose to hire them, you do not need to purchase the water heater through this website – they will take care of that for you! Be sure to mention the "Energy Trust Retail Program" when you call.
For the Portland Metro area, contact Great Northwest Installations – 1-800-309-5211
For the Albany, Corvallis area, contact Stutzman Services – 541-928-8942
Things to consider when installing a hybrid water heater:
Sound – Hybrid water heaters generate sounds similar to the background noise from a portable fan (around 45 decibels).
Cool air – While in operation, hybrid water heaters release cool, dry air into the surrounding space. Ducting can be used to exhaust the air to the outside.
Space – Hybrid water heaters typically need at least 700 cubic feet (10'x10'x7') of air-flow around them to operate most efficiently. Units can be installed in smaller areas if ducting or other air-flow strategies are used.
Size/height – Hybrid water heaters may be slightly larger (60" plus in height) than standard water heaters. Also, some units may be required to have additional top clearance by the manufacturer.
Condensate – Hybrid water heaters can release condensate. It is important to drain any condensate via a sloped drainage system, a condensate pump, or connect to a plumbing drain.
Resources
Return Policy
GP Conservation accepts returns of water heaters only under certain conditions. The unit to be returned must be:
1. In new, undamaged condition
2. In its complete, intact packaging
If the above conditions are met, a restocking fee of $140 and a return shipping fee of $120 will be assessed. In order to help facilitate your return, GP Conservation will arrange for the pickup with you and the carrier.
Have questions? Need help ordering? We're here to help!
Reach GP Conservation at: 503-907-2899 or sales@gpconservation.com.